News from AbleSim

In a rare departure I'd thought I'd use this weeks blog to talk about my own business, and the different services that I offer. News from AbleSim includes:
A Revamped Weekly Info-Letter
Report on Remote Microsoft Project Training Delivered
7 days of Teaching for the IPM in Ireland
Regular Blogs are being Published
Facebook pages for Microsoft Project and Dissertation Support Created
ChPP Chartered Status with the APM Applied for
So, a busy 'lock-down' for Andrew at 🔔 AbleSim 🔔!
Walking the Critical Path

I've re-vamped my Info-Letter with some new graphical banners to separate each section. The content remains the same, hopefully a little prettier!:
In The News
Project Management Tip
Microsoft Project Tip
Recent Blog
Master's Dissertation Tip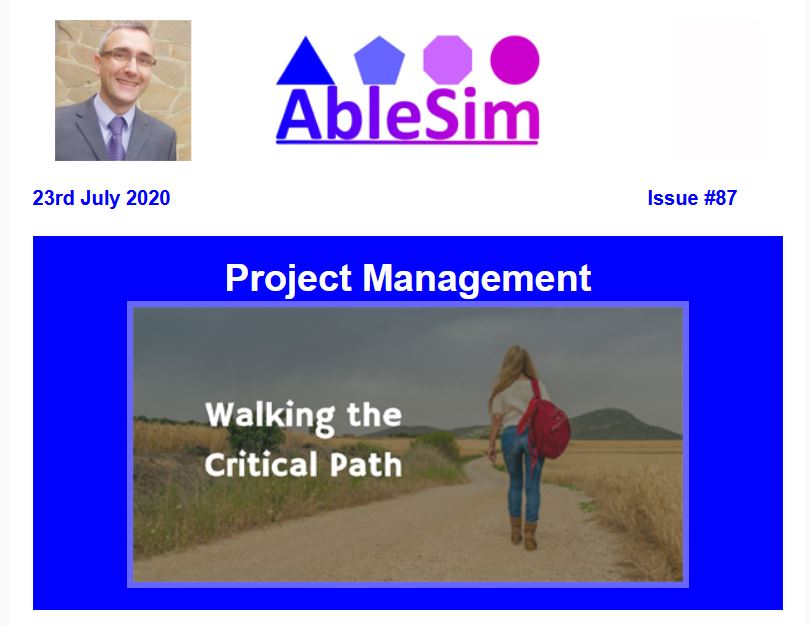 Sign up Here for the Weekly Info-Letter
Microsoft Project Training
I've delivered remote Microsoft Project Training during Lock-down using both Teams and Skype. When Lock-Down was announced I created many social media posts. I also created a New Landing Page to advertise my capabilities.
Do you need some MS Project Training?
Institute for PM Ireland

I've been lucky to pick up some training work from the Institute of Project Management in Ireland. Two sets of training:
Raising the Project Management Ability of an Irish Public Sector Organisation. I delivered the Schedule Management module
Teaching 4 modules to PMI BoK6, preparing individuals for the PMP examination, via a 'Passport' Programme.
All of this training was delivered via Adobe Connect.
Blogs
I've managed to maintain a weekly blog posting. Mainly on Project Management topics, with a few Dissertation Support and Microsoft Project blogs to add interest.
Microsoft Project Support Facebook Page

I've separated out my Microsoft Project Facebook Social Media onto a separate Facebook Page. I've been cross-posting my services into other Project Management Groups, and supporting total strangers for free!
Click here to visit the page – please like, share and follow!
Master's Dissertation Support Facebook Page

My work to support dissertations continues. I currently have 28 students at various stages of completion. I offer a totally ethical dissertation review service . To support this I separated out my Dissertation Support Facebook Social Media onto a separate Facebook Page.
Click here to visit the page – please like, share and follow!
Chartered Status

Lock-Down gave me the opportunity to update my CPD log and finally put in the Chartered Status Application. I've got through the telephone interview, and I now await the final outcome.
Services

Contact Andrew Bell at 🔔 AbleSim 🔔- For Project Management Simulations, Microsoft Project Support, and Classroom Activities.
Posted On: 21st July 2020