VUCA
By definition projects are unique – they are all different. However, VUCA Projects – Volatile, Uncertain, Complex, and Ambiguous – need careful management.
Clearly there are small and large projects, leading to complex projects. I wrote about Runner, Repeater, and Stranger projects indicating that in many cases although projects are different, many of the tasks will be identical.
One thing is for sure, is that as projects get bigger, especially VUCA projects, there is more risk in achieving the desired business benefits.
Messy Projects

The APM have an approach to VUCA that is more generic. Rather than define VUCA projects, the APM describe them as 'Messy Projects' influenced by Emergence or Disruption. The APM seem to capture VUCA projects with the single term "Uncertainty".
VUCA is about 'Predictability' and 'Knowledge' concerning the project tasks, events, and surroundings.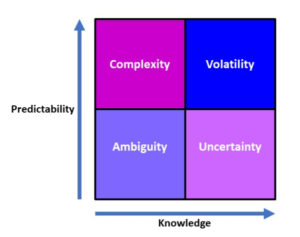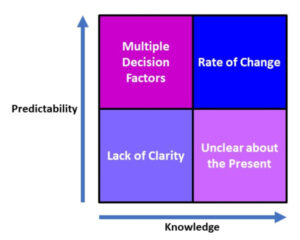 However if the project really is that messy and uncertain, I think that you would want to use all of the tools at your disposal to manage the project effectively.
VUCA Defined
I think that it is useful to define the terms. This is important as they can each be managed in different ways.
Volatility


Volatile means liable to rapidly change in an unpredictable manner.

Uncertainty


Risks that have been identified and measured are easier to deal with. Uncertainty stems from those risks that either were not identified in the first place, or an identified risk that cannot be measured as we have no information about it.

Complexity


A complex project is a system whose components interact in multiple ways. That could mean many stakeholders, uncertain and changing scope, novelty of the technology or methods employed, a large number of tasks, a large number of resources including many external companies and contractors.

Ambiguity


This means unclear, indefinite, with a lack of clarity. There may be incomplete information, or information that can be interpreted in different ways.
So how can we manage all of these factors?
Dealing with a Messy Project

If you are involved in a VUCA project there is probably a lot of frustration, a lot of changes, and even some conflict. Please remember that:
The VUCA is not your fault as a project manager or a project team
It is not there due to a lack of effort or planning
Inadequate resources (although a common issue) is not the sole reason for the VUCA
VUCA does not arise from a lack of understanding of the project
The VUCA will be there regardless of your efforts, especially at the start of the project.
Here are some ways of managing this messy, uncertain and disrupted project:
Vision. Ensure that there are clear goals, clear project objectives. Work on the important rather than urgent tasks. This will help deal with ambiguity.
Understanding. Keep all of the stakeholders fully informed, and make sure you have the latest information from those stakeholders. This will help reduce the project complexity.
Clarity. Ensure that your project communications are simple and clear. On a complex project that means being simple and clear on every issue. Being clear will reduce uncertainty.
Agility. Ensure that your plans are flexible. This will help manage the inevitable changes that will take place due to the volatility.
Reflect regularly on your actions and communications. Consider all of the stakeholders viewpoints. Do this in order to improve the future interactions.
Vision, Understanding, Clarity, and Agility is also VUCA – but rather better to have than Volatile, Uncertain, Complex, and Ambiguous.
Posted On: 10th July 2020